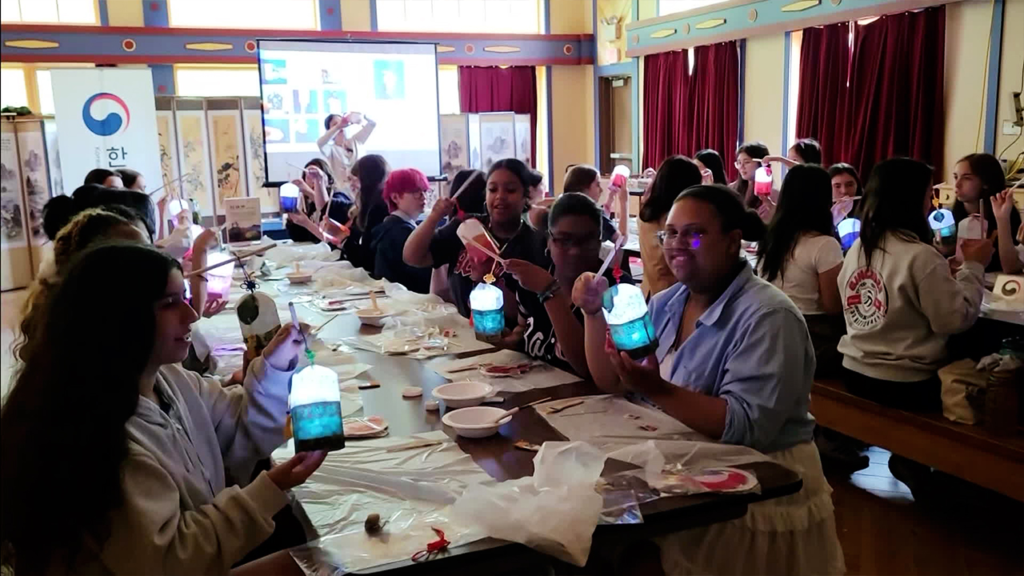 ["(Jeollanam-do wake up) wake up."]
["Busan, wake up."]
Waking up students is a tradition in Korean villages for over 20 years.
["We will speak only Korean all day today."]
There is no format or set time for students to learn Korean.
["Kimchi! Kimchi! Kimchi! Kimchi! Kimchi."]
One of the most popular programs is the daily Korean skits that students create.
["The first news is that K-pop idol Zero Base One has debuted in South Korea."]
Here, Korean is life and play.
[Davin/Arizona: "I've been studying since I was eight years old, and I've been studying on my own. I'm so happy to have the opportunity to speak only Korean for so long."]
This year, the Korean Cultural Center of Los Angeles has prepared special cultural programs, including traditional Korean arts and tea ceremony experiences.
By far the most popular is the K-pop dance workshop.
The Korean language village, named Lake in the Woods, is one of 14 foreign language villages run by an organization affiliated with Concordia University in Minnesota.
Founded in 1999 and now in its 25th year of operation, it is the only Korean language village in the world.
Nearly 3,000 students have passed through the village.
It runs a summer camp every year with a capacity of 120 students, but the number of students began to surge seven or eight years ago with the Hallyu craze.
[Mary Maus Kochel/Concordia Foreign Language Village: "There is so much interest and excitement about Korea, and right now we can't meet the demand of students who are interested in studying Korean."]
This year, the two-week course is over 3 million won, and the four-week course is over 7 million won, but the number of applicants is over capacity and we have to take a waiting list.
[Wisdom/Lake in the Woods teacher: "There are probably over 100 people waiting, so I wish I could take them all."]
Part of the reason for this is Stanford University professor Daphna Jur's love of the Korean language, which began with Tae Kwon Do and has been with Lake of the Woods for 24 years.
Her Korean name is Dahee Joo, and she's been the mayor of a Korean village for 10 years.
[Dahui Zhu/Stanford professor/Korean village chief: "I want to break the idea that Korean is a language for Koreans only. It's a program for the next generation of kids to have a better relationship with the language. That's my personal hope."]
But even though the Korean village is 25 years old, it is still so poor that it borrows facilities from the Russian village.
Luckily, four years ago, a Korean businessman donated $5 million, so they'll have their own building starting next year.
However, due to the lack of dormitories, we have to reduce the capacity to half of what it is now.
[Dahui Joo/Stanford University professor/Korean language village chief: "These are children who could have good feelings about Korea for the rest of their lives through Korean and become so-called chin-hans, and we are missing them."]
Other foreign language villages, such as in France and Germany, 카지노사이트넷 run year-round language education programs for 160 students with the support of their governments or corporate citizens.
I'm Young Hyun Lee for KBS News from the Korean Language Village in Minnesota.