An Italian "mythical defender," Champrota, honors Kim Min-jae.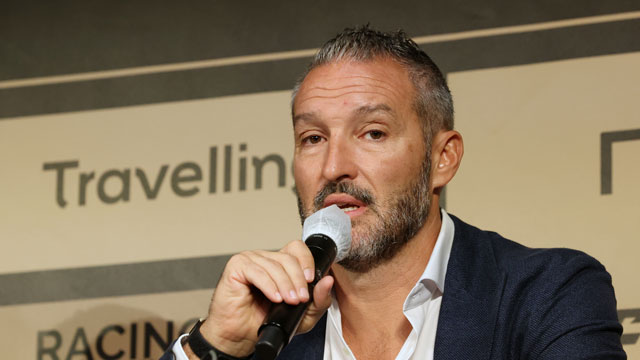 Gianluca Cambrotta, Italy's "master defender," praised Korean soccer's "defensive nucleus" Kim Min-jae (Bayern Munich), saying, "That's amazing. Kudos to you."
"I didn't have the good fortune to play with him because of his age," Chambrotta said with a wry smile when asked about Kim at a press conference at the Fairmont Ambassador Hotel in Yeouido, Seoul, on Wednesday afternoon.
"Kim Min-jae was the key to Napoli (Italy) winning the title (last season). It's a shame that Italy missed him," he said, adding, "It's too bad he went to Bayern Munich (Germany)."
"It's a shame because I also played for Bayern Munich, so if the time was right, we could have met," said Massimo Odo, a former fullback for the Italian national team who was known for his tenacious defense.
"I think he's one of the best defenders in the world," he said.
The players, along with goalkeeper Julio Cesar, who played for the Brazilian national team, met with Korean reporters to promote the 'Legends All-Star Game' on October 21 at Goyang Sports Complex.
The three players' careers are storied.
Zambrotta was the starting right back at the 2006 World Cup in Germany, leading his country to victory. Odoi, who played for AC Milan from 2007 to 2012, was also a member of Italy's World Cup triumph in Germany.
Cesar played seven seasons with Inter Milan (Italy), winning five Italian Serie A titles and one UEFA Champions League (UCL) title. Most notably, he was part of the Nerazzurri's triple treble in the 2009-2010 season.
Later in his career, Cesar worked with Jeonbuk Hyundai Technical Director Park Ji-sung in the 2012-2013 season at Queens Park Rangers in the English Premier League (EPL).
"When I first saw him, I thought he was really good technically," César recalls, "and he had a good relationship with his teammates, so he took on the role of captain."
"Watching Park Ji-sung, I felt the development of Korean soccer, and watching Son Heung-min, who recently played for Tottenham (England), I think Korean soccer is great," he said, adding, "It was great to share a locker room with a big player like Park Ji-sung."
Unlike César, Chambrotta met Park as an adversary.
When he was playing for Barcelona, he faced Park in the 2007-2008 UCL quarterfinals against Manchester United.
Park was the winner. The Red Devils reached the final thanks in large part to Park's ability to keep Chambrotta on his toes.
"We met in the UCL semifinals when I was at Barcelona, and we've played against each other a lot around the world," says Chambrotta. "He was the strongest Asian player I've ever played against. It was amazing to realize that such a scary player was in Asia."
Odo, who had never met Park on the professional stage, said, "I represented my university at the 1997 Universiade in Sicily and won. I remember we finished 1-0 in the final against Korea," he said, "and I wondered if Park was on that team."
Contrary to Odo's speculation, Park was not on that team, which was coached by Kim Hogon. The centerpiece of the team at the time was Lee Jae-hwan, who was a generation ahead of Park.
Meanwhile, left back Roberto Carlos, a member of Brazil's winning team at the 2002 Korea-Japan World Cup and famous for his "UFO shot" during his playing days, was unable to attend due to personal reasons.
The event is organized by Lashing City Group. Founded in 2018, Laxing City Group conducts soccer business mainly in Europe, 먹튀검증 South America, and the Middle East.